Adventure full of insects and crumbs. The story tells us about three worthless bugs who had to watch over Becherovka, but they have failed and now they must set right all the damage they caused, or they will all die of not very dignified death. One hell of the day.
The Becherovka is screwed into the story with subtlety of wounded ballet girl so it's possible you didn't noticed it, but we submitted the game to
Becherovka Game Competition 2005
. We won the 1st place in the category "RPG and adventure games".
Booze, whores and bishop breads.:)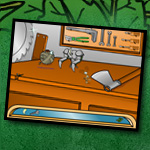 We conceived the whole game as cute cartoon play which is saturated with black humour in the inside. Various NPCs (such as cynical carrion beetle, strung-out lady bug, schizophrenic earthworm,...), unique locations (brutal windscreen, cat's stomach, anthill,...) and some irritating mini-games will variegate your journey.
Despite of shy developer's starts the Little World achieved tremendous success and attracted tens of thousands of players around the world. And we are perversly proud of it. So come on and try it. Insect is fun event without tearing it's wings.
The helpful
walkthrough
is available here and we have also published this
list of the most common bugs
and their solutions. Unfortunately everything is written in Czech only.